The Egyptian Arabian Horse
MAGIC FARESSA (IT)

Born the 15/09/2004
ANSATA SHAAMIS et AG ELOISE (IT) (par HADIDI)
Mare of 10 years old, Grey, Arab.
Straight Egyptian
Dahman Shahwan Stain, Bint Maisa El Saghira family
AL SHAH SAMIRA

Born the 16/06/1999
EL THAY MOUFID et SAFINIYA BINT HALIM SHAH (par EL THAY THAMAM)
Mare of 15 years old, Chestnut, Arab.
Straight Egyptian
HADBAN ENZAHI Strain, VENUS Family
CF JADORE (IT)

Born the 21/04/2003
MOROC et SAURO S HAMYRA (par COALTOWN)
Mare of 11 years old, Bay, Arab.
Straight Egyptian
Al Khamsa, Hadbah Inzihiyah thru Venus (Khedive Abbas II) strain
GIOIA DU SIARD

Born the 10/05/2014
CF HAJAR et CF JADORE (IT) (par MOROC)
Mare, Bay, Arab.
Straight Egyptian
NEFISA DU SIARD

Born the 06/03/2015
IMPERIAL ALKAREEM et MAGIC FARESSA (IT), AR (par ANSATA SHAAMIS, AR)
Mare, Grey, Arab.
Straight Egyptian
Dahman Shahwan Strain, Bint Maisa El Saghira family
SAMANTHA DU SIARD

Born the 05/07/2016
MAS BILAL et MAGIC FARESSA (IT)
Mare, Grey, Arabian.
Straight Egyptian
SAYF DU SIARD

Born the 04/06/2018
GREA NAJIB and MAGIC FARESSA
Stallion, 2018, Grey, Arabian
Straight Egyptian Filly
TAGHREED DU SIARD

Born the 06/08/2017
MAS BILAL and AL SHAH SAMIRA
Mare, 2017, Alezan, Arabian
Straight Egyptian Filly
Here at

SIARD ARABIANS

, it is truly a program of classical Arabian beauty and type, with strong movement, big eyes, and a very fine, esthetically pleasing overall look to the herd...
The first thing I look for is Arab type, the characteristics of the breed, plus quality and charisma. I only make a final decision on type after I have seen the horse in movement, for that harmony of action when it appears to float and dance is an essential of Arab type. But a good Arab should also be a good horse, whose sound conformation and constitution were in the desert days honed by the harsh environment in which they lived.
ARABIAN HISTORY,

There are two institutions with the same purpose, which is to breed a pure Arabian blood horse, called « al-hail-al'arabia, al-asila', in Arabic, hence the acronym ASIL (pronounced « asseel »). The word ASIL means pure, true, noble, and genuine. The ASIL Club is to the European Arabian what the AL KHAMSA is to North American Arabians. Both try to unite the breeders of the true Arabian horse of desert stock.
Definition of the ASIL pure Arabian horse :
The Asil Arabian is a horse whose pedigree is exclusively based on Bedouin breeding of the Arabian Peninsula, without any crossbreeding. The ASIL horse is required to have the riding qualities and the type characteristics which characterize the desert Arabian horse. Both parents must be registered in the « Asil Club » (or Al Khamsa) stock list.
Any other horse must :
- be registered or be eligible for registration in a stud book officially approved by the WAHO (World Arabian Horse Organization).
- trace back directly to the « Arabia Deserta » or correspond in every line of its pedigree with the breeding program of the EAO or of private studs controlled by the EAO (exception made for the REGISTAN, SHARKASI, and IBN GALABAWI horses). Display the type, conformation, and riding qualities of desert bred Arabians.
- taking their origins from Saudi Arabian, Bahrain, Jordan, Syria, Iran, and Egypt. Al khamza breeders are deeply attached to the Bedouin breeding characteristics and breed their horses according these ancient traditions. The horses acknowledged by the Pyramid Society as « Straight Egyptians » are recognized as ASIL and their registration is not a problem at all.
The ASIL Club endeavors to guard the « Arabia Deserta » pure blood origins of the ASIL horse. It will use no blood but the pure Arabian blood from the roots of the ASIL registered sources.
The more you can look into the past, the further you will see into the future.

Definition :
The word « Al Khamsa » signifies that every lineage and pedigree can be traced from their Bedouin origins up until now. The non-Al Khamsa horses are not necessarily impure, but because of wars or political events, information has been lost and the purity of their Arabian blood cannot be proven. These horses represent 95% of the Arabian horse population in the world.

Stocks and Types :
The best known classification which is based on a legend concerning the prophet Mahomet is Al Khamsa, meaning « five » in Arabic. Since the translation from Arabic to our alphabet can be quite problematic the name of any given stock can be written in many different ways.
The characteristics of these 5 stocks are listed below.
AL DUHAYM (DAHMA, DEHMAN, DUHAYMAN, a good type, with a short head, a concave nose, a curved neck, a correct top line, and well defined limbs,
AL SAQLAWIYAT (SAKLAWI, SEGLAWI,) feminine elegance, and grace, a particularly silky mane and tail, a long neck, slender limbs, and leg and facial markings,
AL HADB (HADBAN, HEDBAN,…) pretty and elegant with a good stamina, big eyes, deep chest, and shoulders. A multi purpose horse which may have light hindquarters.
AL KUHAYLAT (KOHEILAN, KAHEYLAN, KOHAYLAN, …) a powerful and well muscled, well balanced horse of a more masculine type, a small head, a wide forehead, a deep chest. A very compact horse.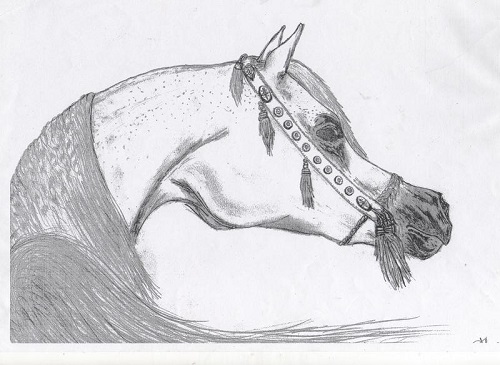 Discover the magic of the Arabian horse...
Arabian Horse Conformation
An Arabian's most identifiable characteristics are its finely chiseled head, dished face, long arching neck and high tail carriage. Its entire appearance exudes energy, intelligence, courage and nobility. Every time an Arabian moves in its famous "floating trot". he announces to the world his proud, graceful nature.
In general, Arabians have a short, straight back (usually one less vertebra than is common with other breeds), perfect balance and symmetry, a deep chest, well-sprung ribs, strong legs of thick density and a more horizontal pelvic bone position.
" LEARN ALL YOU CAN, THAN TRUST YOUR OWN JUDGEMENT ".